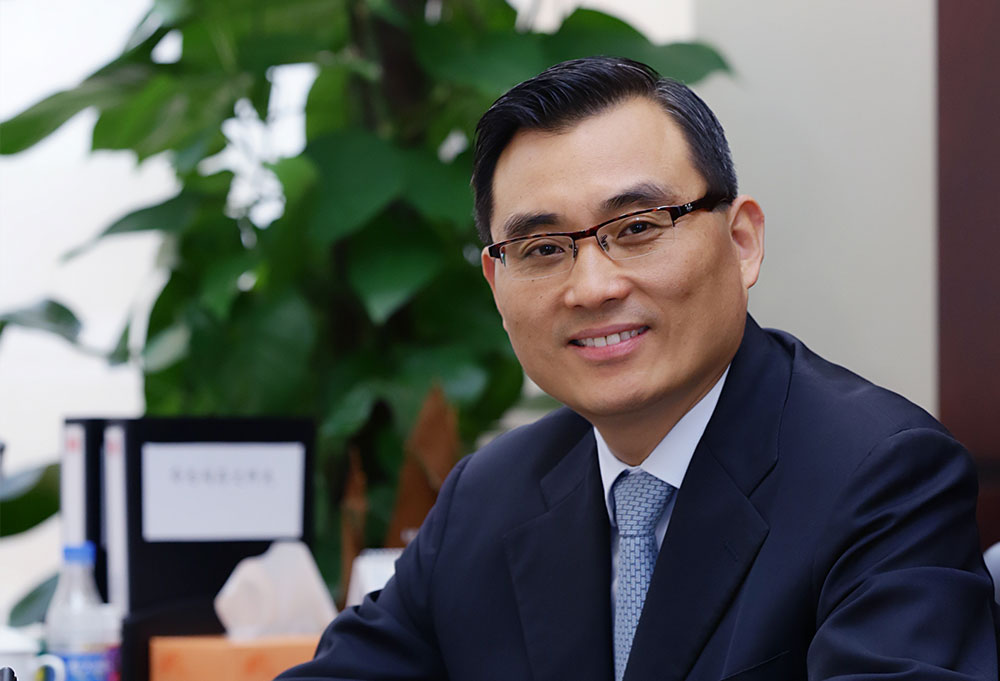 26 Jun

A point of reference for the Mediterranean port industry
Yu Zenggang, Chairman, Piraeus Port Authority, explains how an ancient and historic port is, once again, supporting the outward focus of Greece's economy
With its location at the crossroads of Europe, Asia and Africa, Pireus port has huge strategic importance as a key access point to continental Europe. What is its significance as a node and regional hub in the global development strategy embraced by the Belt and Road Initiative (BRI)?
The Belt and Road Initiative (BRI) was inspired by the ancient Silk Road but has been adapted to the age of today. It was initiated by China but now is of global scale, with more than 190 countries participating in one aspect or another, including many European Union (EU) countries. The BRI is an inclusive non-formative initiative that aims to develop global trade and, consequently, economic growth. In order to achieve these benefits we need efficient supply chains and the ports along the China-EU trade corridor are key components. Piraeus port in particular, as it is at the center of Europe, North Africa and Mediterranean Asia, is a key end node of this trade corridor and will play a very important role in achieving the benefits of increased trade and efficiency.
COSCO SHIPPING's plan to make Piraeus the number one port in the region and the biggest transit hub between Asia and Europe is reflected in its latest investment program worth €600 million that is directed at upgrading and expanding port facilities. What is the scope of these investments and their approximate timeline?
When it acquired the majority of shares in Piraeus Port Authority S.A. (PPA S.A.) through an international tender, COSCO SHIPPING had a vision. Piraeus already has the necessary natural port characteristics to become a regional and continental leader in the global supply chain. However, it needs significant investments to keep up with the developments in the port industry to attain sustainable development and overall growth in trade volumes. To this end, the investment plan for Piraeus port is holistic and focuses both on capacity development as well as on the revamping of the seafront of Piraeus to the benefit of passengers and the city of Piraeus.
More specifically, the investments have four pillars: capacity development in all terminals—that is cruise and ferry, container, car and logistics); revitalization of the ship repair sector, which provides jobs and supports the local economy; reduction of environmental footprint through a series of actions such as ECO-Bus transfers within the port, provision of electricity to ships and preparation for liquefied natural gas access for ships; and finally, creating the foundations so that Piraeus can become a standalone business center with new hotels and points of interest.
Some of these projects have already started. For instance, the construction of the cruise infrastructure expansion— with two new berths for new generation cruise vessels—that is budgeted at €120 million and co-financed by EU and Greek funds. Other critical investments in the container and car terminals have been submitted for review to the relevant state authorities. COSCO SHIPPING's vision for Piraeus port is long term—nevertheless, we are working full speed ahead so that the port presents a new topography within the next few years with the majority of the projects completed within three to five years. This should not be taken to mean that after the first few years our vision is complete. Far from it. The port is alive and grows with trade and economic development, which also call for additional investments. We are keen and able to grow Piraeus port in line with the growth in requirements but this can only be achieved with the consent of local, regional and countrywide society, and we know and respect this.
How would you characterize the impact to the local economy of COSCO SHIPPING's investment plan in Piraeus?
Greece is one of the biggest maritime nations of the world. However, until recently Piraeus was not within the top ports in terms of volumes. This will change and we are committed to cooperating with all stakeholders in order to share the benefits of increased volumes within the port. Allow me to mention that for the first time in 2018 we published our corporate social responsibility report. Some things in the report are worth noting: PPA S.A. contributes 0.4 percent of the country's gross domestic product before you add in the impact Piraeus' container terminal. We provide 1,016 direct jobs and more than 3,000 indirect and induced positions. €49 million was absorbed by local and regional providers of services and goods in 2018. This is a significant amount compared to our total revenue for the same year and I believe is the best indicator that growing port operations strongly support local and regional communities. Although we are growing, we are also mindful of our environmental impact and we want to mitigate our footprint wherever possible. For instance, in 2018 we managed to save 600 tons of carbon dioxide emissions with just one investment in photovoltaic systems.
Under your leadership, the Piraeus Port Authority has followed an ambitious path of modernization and expansion. In 2018, the port's throughput had grown by 20 percent and its revenue by 19.2 percent. In terms of efficiency, the port's pre-tax profits jumped 100 percent during this same year. What were the figures like for 2019—are we still seeing such significant increases?
The financial year of 2019 was the most successful year for PPA S.A. in terms of profitability. All the business units are constantly improving the quality of services provided and their financial results. Our revenues amounted to €149.2 million compared to €132.9 million in 2018, showing an increase of €16.3 million or 12.3 percent. The biggest increase in revenue was recorded in the container terminal, cruise and ship repair sectors. Our profit before tax totaled €47.6 million, compared to €42.3 million in 2018, which is an increase of around 12.5 percent, and net profit grew by 27 percent to €35.4million, compared to €27.9 million in 2018. In addition, PPA S.A. will pay a €5.4-million concession fee to the Greek state for 2019, compared to €4.8 million in 2018. The proposed dividend per share for 2019 is €0.5388, compared to €0.4240 in 2018, an increase of 27 percent.
In 2019, the port's container handling reached a new record of 5.65 million twenty-foot equivalent units (TEU) and Piraeus now has the leading container terminal in the Mediterranean and the fourth in Europe. Also in 2019, Piraeus' passenger terminal welcomed 17.65 million people, making it the number one passenger terminal in Europe. As you mentioned, your company has also seen important growth in cruise-ship calls and ship repair activity. What can you tell us about the development of these two business segments?
Since we were awarded the container terminal concession in 2009, following an international call for tenders as per EU regulations, we have seen tremendous growth in container throughput from 664,895 TEU in 2009 to 5.65 million TEU in 2019. The rapid container growth in the port was the result of major investment in infrastructure and superstructure, improved performance and service quality.
The combination of investments and service quality improvement is the strategy we started to apply in all sectors, including cruises and ship repair. We believe that this has started to pay back, as we saw a significant increase of more than 20 percent—around 130 ships—in cruise ship calls scheduled for 2020 compared to the previous year. There is also an increase of more than 7 percent in the number of ships in the ship repair zone of Piraeus. More importantly though, we are noticing a quality shift in our pool of clients, with an increasing number of merchant ships that could choose any yard around Mediterranean, especially since we purchased and started operating a Panamax-Size Floating Dock. This quality shift is important for us and indicates a positive reaction to the changes we are bringing about in service quality and infrastructure.
COSCO SHIPPING's investments came at a time where Greece was struggling to keep afloat and falling deep into a recession that would last the better part of a decade. What are your views on the resilience of Greeks, the history of their maritime sector and how has living in Greece impacted you most?
It is true that COSCO SHIPPING invested in the port of Piraeus at a very challenging financial point for Greece. However, as I said, we invested with a vision for Piraeus to become the most important port hub in the Mediterranean. Piraeus has almost as long a history as the city of Athens. The Athenian democracy was formed 2,500 years ago, partly due to the decision of the Athenians to invest in and rely economically on international trade, which led to innovative ideas and an equal-opportunities society. This tradition is embedded in Greek ideology. Greeks are outward-looking people with a thriving shipping industry of which they are very proud. Today, Piraeus port again provides the field for China and Greece, the two ancient nations, to work together so that Greece can be equally proud of a port that stands out within the international supply chains, provides jobs and, once again, supports local and regional economic development.