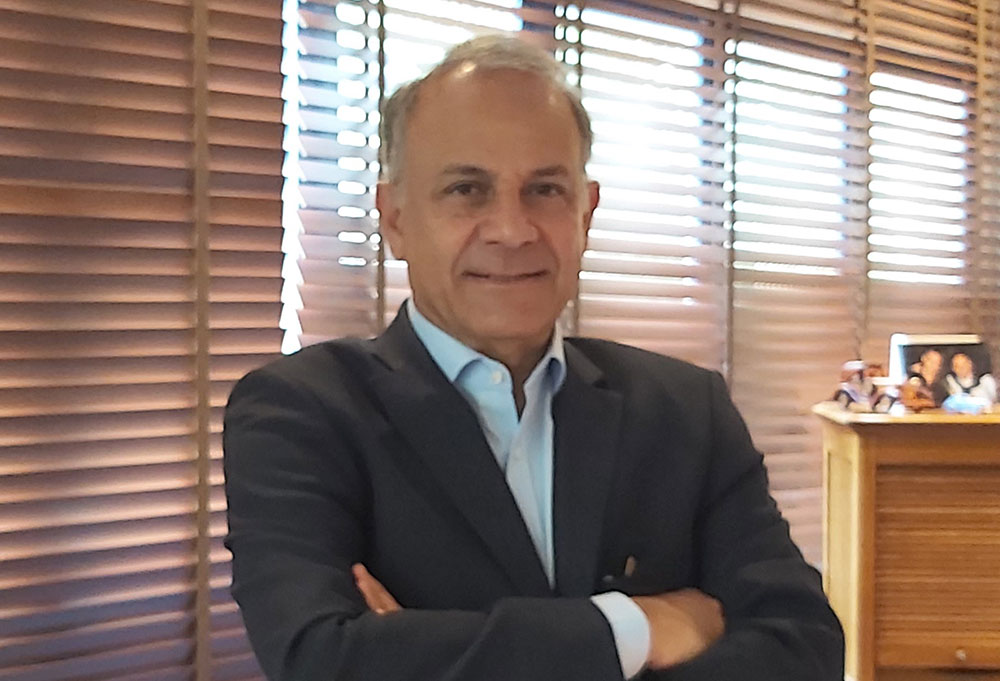 02 Jul

Greek pharmaceuticals support the world's battle against coronavirus
Dr. George Garbolas, President, Cooper Pharmaceuticals, reveals plans for expanding exports and product lines
Cooper Pharmaceuticals has been a leader in the Greek pharmaceutical market since it was founded in 1936. With your vast scientific expertise, can you provide an insight into how Greece rose to the occasion and has received global praise for its handling of the coronavirus crisis. What, in your opinion, were the key elements that allowed Greece to tackle the pandemic so effectively?
I think the most important factor is that Greece assessed the threat of the pandemic and responded maturely and swiftly against it, applying a series of strict measures, not seen or not apparent in other countries. The prime minister applied a collective strategy that valued the protection and health of the population with respect to the impact on the economy. The government included scientists in their decision-making processes, prioritizing people's health and wellbeing, while trying to balance out the effects of a shutdown toward the economy.
A crucial element of this response was the fact the government acted immediately, entering the lockdown both on a personal and business level—as people were requested to stay at and work from home. We didn't have a curfew but we had a system where we could exchange SMS messages between public services, such as healthcare, and individuals. The outcome of this was that people felt part of a collective strategy and that they were participating in the government's plan, which had the protection of its citizens as a main aim.
Another important thing is that we were provided with very detailed information every day, which came from a professor of medicine that analyzed all of the data that they had from coronavirus.
Around the world, the healthcare industry has been shaken by the virus, and policymakers and business leaders have joined forces to cope with the pandemic. How has COVID-19 affected your business priorities and did Cooper tweak its production during this period in a similar way to how—as one of Greece's oldest pharma companies—it supplied key medical products to the Red Cross during World War 2?
Within Cooper, there are two sides to this. One side is that we had products that really were essential medicines for patients that were hospitalized due to the coronavirus—these were mainly antibiotics for the respiratory system and products for anesthesia. We had to overproduce and we tried to support all of the state hospitals, especially the hospitals that were allocated for coronavirus. The crisis also negatively influenced all the other parts of our operation. For example, our line dealing with ophthalmology, because we no longer had eye surgeries. Everything was focused on the products that were needed for COVID-19.
The pharmaceutical sector in Greece was at one point a poster-child for the economic recovery: a high-growth sector leading in research and development (R&D) investments and in exports. But as 2008's financial crisis deepened, strict austerity measures were implemented—claw-backs and rebates—which have hampered growth and investments. What was your outlook for the pharma sector before COVID-19 and how has it changed since the emergence of the virus? 
What is important in Greece and in the Greek pharmaceutical industry is to have a strong sector that can support the country and provide almost 85 to 90 percent of the country's medicine needs. We have local production and we don't need a lot of medicines to be imported from other countries. This is very important and it was something that proved to be very good during this pandemic. Hopefully as a result, our government will understand that the claw-backs and rebates it is imposing on the pharmaceutical industry hamper growth and make investments more difficult. I hope the government appreciates that, during this epidemic, the Greek pharmaceutical industry was present and supported the healthcare system.
How do we expect to change our policies after coronavirus? We have to look into more investments because there are more opportunities both in Greece and outside Greece. Cooper's products are exported to more than 30 countries. During the coronavirus crisis, we kept exporting to countries that had big problems, such as in the Far East. We even supported and supplied governments in Europe that ran out of pharmaceutical products during the crisis. Looking into the future, we will keep investing in new production lines, in optimizing our production and our production capacity, and in all those areas that will improve our production.
Under your leadership, Cooper has fully embraced international opportunities and successfully managed to meet the growing demand for its products in key markets like the Middle East, Africa and Asia. Tell us a bit about the transformation you have led to turn a domestic player into an international one and the investments you have made to expand your distribution capacities?
We are looking at a local market of 10 million people and then exports for a more global market. Our first move was to become a dominant player in our region and in the Balkans, where we started to export initially. Progressively, we expanded into the Middle East and then the Far East. We have two big lines of products: injectables for hospitals and products for ophthalmology. Ophthalmology is a niche market—not many companies operate in this field. We thought that, through this product line, we could penetrate foreign markets and then further support them with our hospital products. We had two ways to expand and grow: one is that we had to expand our production facilities and the second is that we had to look outside toward a bigger part of the world.
Can you outline your vision for the company, the development of its product range and teaming up with new, strategic partners to achieve these goals. What type of companies are you looking to form alliances with?
Within the next five years, we are primarily looking into expanding our production lines. Secondly, we are aiming to consolidate through mergers and/or acquisitions. We are now at a €35 million turnover. In the next five-year period, we want to be a company with a €60-70 million turnover. We are looking at different pharmacological areas in which we will invest and have already started another branch for medical devices. These devices generally have to do with hospitals, in fields like laparoscopic surgery, orthopedics, or surgical oncology. These are areas on which we are focusing now, which would also line up with our medicines.
With an open mind, we are continuously searching for companies that would be complimentary to our products for either a merger or an acquisition. Cooper is a mid-sized company by Greek standards, but a very small company by international standards, so we have to grow. We are positive toward the idea of teaming up with somebody, either by merging, acquiring another company or in some other way.
As mentioned earlier, the Greek pharma sector has traditionally been a champion investor in R&D, representing 22 percent of the total and 8 percent of all private-sector R&D investments. Will this change?
 In Greece, the pharmaceutical sector is very active in R&D and new product development. This has a positive impact on Greek economy. In the technology sector, we are becoming very strong. I think these are the main two sectors in which we are growing.
As we stand in solidarity with those who have been most affected by the virus, it is also time to think about the lessons learned. From the perspective of humanity, personally and for Cooper, what have been some of these lessons?
We have learned many things and have had to change our philosophy of life a little bit. We have started to value things that before were not taken into consideration. Greeks are extroverted, they want to go out all the time and don't stay at home. Now, we have recognized the warmth of our homes and have come closer to our people. The lockdown was a unique experience, especially for the Greeks. It was very difficult for many Greeks not to be able to see their parents or grandparents—you had to stay just with those you lived with. This is a completely different situation from what we were used to. We started to realize that material things do not have the same value as we thought they did in the past.
My message is that, even during challenging periods, people should try to remain focused and find the courage to continue. Keep your feet on the ground and don't let anything underestimate your efforts.
From the business point of view, we also learned how to operate differently. In Greece, it was not common to work from home and, even though we were hesitant at the beginning, we saw that people were able to work remotely and to keep working at the highest professional standards. We are using new technologies that we didn't use before. This might be a bad thing, because the next issue is that we have to change to more automated production. That might lead to other problems with respect to technological supremacy and its effects toward the end of the human era. If you change all production into robotics then the number of your employees will shrink, unemployment will rise. These are things that we have to consider in the future.