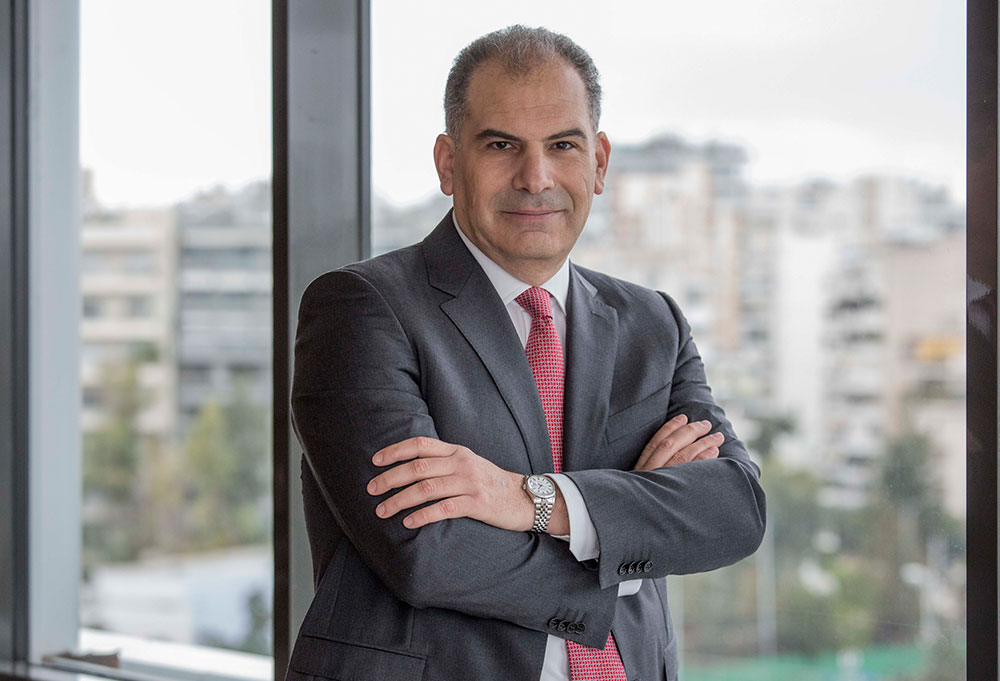 30 Jun

Illustrious shipping company leads the sector to the future
George Karageorgiou, President and CEO, Olympic Shipping and Management, shares his vision for the Greek and global shipping industries
As an important member of the Greek shipowning community, you have navigated with determination and contributed to the development of the shipping sector worldwide. Considering your vast experience and keen perspective, I'd like your view on the current state of the shipping sector at the global level and the impact of the International Maritime Organization's (IMO's) 2020 sulfur cap?
Shipping is a business that is over 5,000 years old and is responsible for 90 percent of the world's trading volume. Without shipping, humanity wouldn't have reached the prosperity levels the world enjoys today. It is very competitive and volatile as it reverently abides to the laws of supply and demand, setting the perfect background for Greeks to thrive. The coronavirus pandemic has reduced the demand for transportation of commodities while, at the same time, the world fleet continued to expand, thus creating a temporary imbalance that has brought dire consequences in every shipping sector except tankers which enjoy a temporary spike due to the increased need for storage of the oversupplied crude oil.
IMO's 2020 Sulphur Cap regulation has now been fully implemented without causing any major disruptions. It has proved that our industry needs clear instructions and a reasonable period in order to prepare and comply with new regulations.
Greece has a long and rich maritime history, and continues to dominate the high seas, where Greek shipowners hold 21 percent and 53 percent of the world and European fleet in dwt tonnage respectively. What is your own, personal vision for Greece's shipping sector? And what are your thoughts on the new Maritime Hellas cluster and its potential to become a global hub for shipping services?
I believe that Greece will continue holding a predominant position in the shipping industry. Larger Greek shipowners will increasingly focus on the tanker and liquefied natural gas (LNG) sectors, where size, capital and quality operations are providing a higher barrier of entry. Smaller Greek companies and shipowners involved in the dry cargo trade might have to form both partnerships and larger groups in order to better compete with the subsidized or state-funded Asian giants that have different roles, objectives and priorities to independent shipowners. The Hellas Maritime cluster is already here, as the vast majority of financiers, insurers, legal firms and suppliers have established offices in Greece in order to provide services to the biggest ship-owning community in the world.
Olympic Shipping and Management is the legacy of one of the world's most emblematic shipping personalities: Aristotle Onassis. He founded the shipping company in 1952 in Paris and, after spending several decades based in Monte Carlo, the company was transferred to Athens. What are some of the core values of the company that were instilled by the founder and which continue to underpin and contribute to the company's ongoing success as a global leader in shipping?
Our core values have always been about long-term investing in good assets and great people from the very beginning. We build our vessels to our own very high specifications in order to operate them hard and efficiently for many years. We are also very committed in finding, developing and retaining the best people to operate these assets. The third element of our success is our long-term investment horizon that requires us to be conservative and thus have enough "staying power" to weather the downturns of the industry in order to reap the rewards of the few but very profitable peaks of the cycle.
Your appointment to the top job at Olympic Shipping in January 2017 came at a time of much uncertainty, both in Greece as it struggled to emerge from the crisis but also in the shipping sector globally. Upon landing in your office three years ago and after your initial assessment, what did you identify to be the priority elements to be tackled in the short-term?
The board's mandate was broad and clear: "Prepare the company for the challenges of the 21st century." The first priority was to modernize the fleet and four super eco newbuildings vessels were acquired, while a construction order for three very high specification Very Large Crude Carriers (VLCCs) was placed at Hyundai Heavy Industries in South Korea. The remainder of 2017 was utilized in analyzing every single item of our cost base and building a new operational budget that produced savings of approximately 20 percent.
During the last two years, we have been focusing on our business processes, trying to digitalize all procedures and create digital tools and applications that will allow us to manage the fleet more efficiently in real time. The ship and the office are now seamlessly connected and the installation of sensors on board is helping us monitor and optimize every critical parameter of our operation, enhancing the vessel's operational efficiency as well as our financial performance.
Looking a little further ahead, what key issues are you looking at when deciding the company's medium-term growth strategy?
Shipping is a volatile business and conditions change on a daily basis. We actively manage our exposure between the dry bulk and the tanker sectors and we always seek the optimization of our future earnings through a combination of period and voyage charters. We invest counter-cyclically provided that the medium- and long-term fundamentals of the sector are solid. At the moment, the majority of our assets are in the tanker sector as we believe that sector has better medium-term prospects than dry bulk. Currently, we do not have any plans to grow. We have made our investments during the last three years and the market is now rewarding those decisions.
Let's talk a little about Olympic Shipping's current fleet, which is composed of 21 crude oil tankers and 10 bulk carriers, totaling a combined carrying capacity of 6.1 million dwt. How would you characterize the company's strategy in terms of fleet management?
As you say, our fleet currently comprises 22 crude carrying tankers and 10 dry bulk vessels, however our VLCCs are what we were always known for and they continue to be our main focus. We are probably the oldest VLCC operator globally and it is in this sector that our competitive advantages maximize our financial return. Our fleet expansion phase was completed last April, when our 16th VLCC joined the trading fleet. We are very happy with our current size and, with the present market conditions, we are closer to selling some of our older units rather than buying some new ones. Furthermore, there is also a lot of uncertainty over forthcoming environmental regulations that is impacting ship orders—and this is a good thing, as it reduces the supply of tonnage; no one would risk ordering a ship today that may be technologically obsolete in a few years. Unless we have clarity on this front, we will not consider increasing our shipping exposure.
Technological innovation is having a phenomenal impact on the shipping sector, in terms of sustainability, efficiency and profitability. What has your experience been so far with new technologies like artificial intelligence (AI)?
Technological innovation is a never-ending process. We focus our efforts on the digitalization of various shipping processes in order to make the life of our seafarers easier and our office staff more efficient. It is something that we cannot do on our own as it requires digital expertise that only information systems companies possess, so strong collaboration and understanding between the parties is required. By working hand-in-hand with our digital strategic partners, we have created a ship performance management platform that receives 2 million data signals every day, stored in the cloud, and processed using AI and machine learning technology. Business analytics through modern visualization tools already provide us with small increases in vessel efficiency that could not have been identified before.
Our second platform is monitoring the operation and performance of the ship's main engine and diesel generators, allowing us real-time optimization adjustments and, in some cases, even preventing future damage. Using these technologies today—at an early stage—comes with big costs that might negate any produced savings, but in five years from now, I cannot imagine how one would be able to be competitive without them.
Most members of the maritime industry in Greece will recognize that a fundamental part of catapulting the sector into the future is the need to attract new talent, particularly young people. What strategic methods have you worked on to help create attractive opportunities to encourage young Greeks to gravitate to the maritime sector?
Attracting the right candidates to serve onboard our vessels is only the first part of a very long process that usually lasts between 20 to 40 years. Our involvement with our seafarers starts in their first year in the marine academy and usually ends with their retirement. We work closely with the Greek marine academies and support them both financially and with operational and industry expertise in order to help them address their ever-changing needs. Every year, we have students visiting our office in order to get acquainted with the company and the industry in general.
We employ two to three times the number of cadets required by the Greek flag in order to be able to evaluate a large number of candidates and finally select the most promising ones to join our pool of officers. From then on they become members of the Onassis family and throughout their career we stand by them, providing help and support on a 24/7/365 basis, monitoring their performance, providing them with continuous training and generally helping them in any way we can.
We also have a special scholarship program established, that has so far educated 620 of their children. Our relationship rarely ends when the officer decides to terminate his career as a mariner. After a successful sea service period, most officers get transferred to the office and work as port captains and port engineers attending to the needs of the ships that they served on and know better than anybody. Anyone can buy a state-of-the-art ship today but very few know how to properly run it safely, efficiently and profitably. We wouldn't be able to do that without our capable seafarers.
Greece has drawn global praise for its effective handling of the coronavirus crisis. In your opinion, what lessons can be learned from this?
Greece has managed to handle one crisis after the other—the financial one being followed by COVID-19—in a remarkably effective way despite difficulties and setbacks. Perseverance, resilience and sticking to the plan is always the way to go. Ignoring stereotypes is also important, as Greece has been targeted for many years for traditionally preferring fun over work. This isn't true. Greece and its people work hard for everything that they create. The country, having handled the pandemic as wisely as it was possible—given the uncertainty revolving around the virus—seems to be looking at a potential influx of tourists that will once again enjoy all it has to offer. European leaders are already urging their citizens to give preference to Greece for their summer holidays.
The crisis has taught us to be more respectful towards nature, being more ethically responsible and more appreciative overall. Special mention must be made toward the entire scientific community whose lead we all follow to make it through and whose exceptional value in serving humanity we have now embraced in a more substantial manner.
Being flexible, able to adjust to change while making informed decisions as you go are all essential steps in achieving any goal. The world has rebooted many times and will do so again; we cannot pretend the challenge isn't there, we just see the challenge as an opportunity to revisit issues, highlight strengths and dissolve weaknesses in order to effectively reach our final targets. This has always been our viewpoint, even before the lockdown.
How is Olympic Shipping and Management adapting to the new post-COVID reality and, as its leader, how have you motivated your teams during the pandemic?
I am proud to say that we have stood the test of the pandemic and have protected and supported our people during this unexpected storm. Remaining collected and being prepared beforehand takes some of the pressure off. An effective leader must encourage people to take responsibility and be accountable for their actions and self-development, while respecting corporate values and mission, and one another, at the same time. It is a fine balance that promotes innovation as well as harmony amongst peers.
As an ambassador for the Greek shipping industry, do you have a final message for the readers of Newsweek?
There has been a lot of discussion about shipping and its contribution in the generation of greenhouse gases but few people realize that it is by far the world's most efficient form of transport. Ships transport about 90 percent of the world's trade and generate about 2.5 percent of total global greenhouse gas emissions per year. Continuous improvements in existing technology have reached their limit and we now need a technological step-up in order to reach the next level of environmental efficiency. The proposals for this change are numerous, unproven and far more expensive than the fossil-derived fuels that we use today and it is IMO's role to establish clear rules, regulations and timeframes so that the industry decides which technology to adopt, invest in and develop for its transition into a greener future.