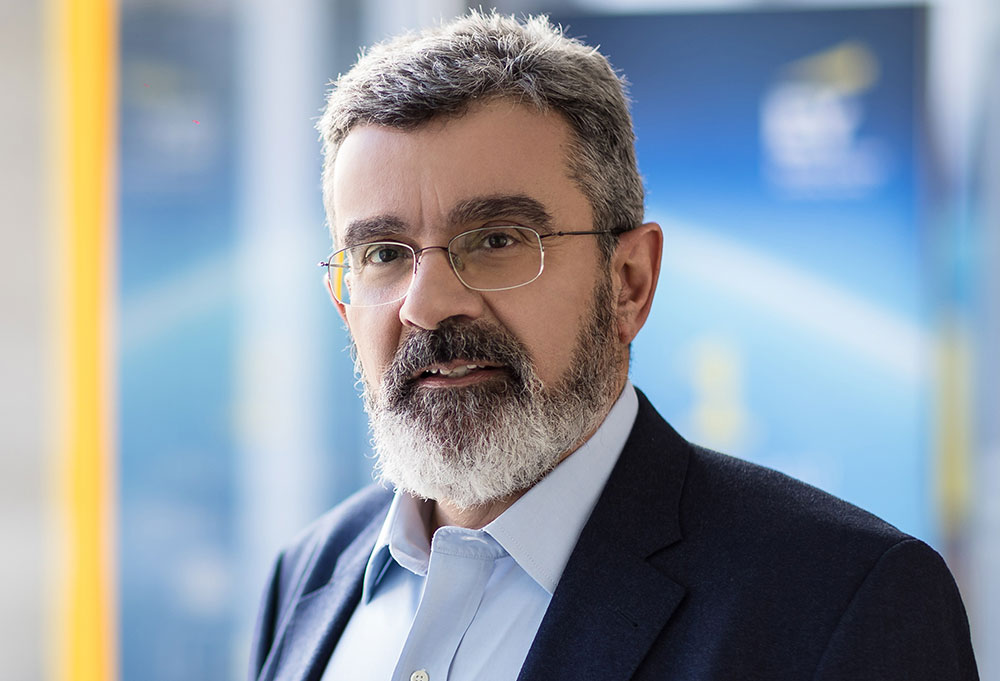 17 Jun

In light of COVID-19, EY encourages firms to rethink all aspects of their current and future business models
Panos Papazoglou, Managing Partner in Greece, and Central, Eastern, Southeastern Europe and Central Asia Accounts Leader, EY
Until recently, Greece had been experiencing positive economic trends with business confidence on the rise. EY, the worldwide leader in assurance, tax, transaction and advisory services, has had a substantial presence in the country since 1926. We would, therefore, welcome your opinion on the macroeconomic outlook for Greece in 2020?
What is certain is that 2020 will not be the year that we expected it to be. We expect a recession across the eurozone. Obviously, this will affect Greece as well, in a significant way. Now, how bad this will be—how deep the recession will be—remains to be seen. It very much depends on tourism. If tourism can somehow recover in July or August—or even in September—then the recession will be lower. If we cannot manage to make that happen or if there is a return of the pandemic in some countries over the next two months, obviously the hit to tourism will be significant and, therefore, the recession will be deeper.
The Greek government has shown its intent to advance pro-business reforms. This includes a reduction of corporation tax from 28 percent to 24 percent and having a tax dividend at eight percent. What other strategic structural reforms are being championed by the private sector to help revitalize the Greek economy?
Allow me to make a general comment first: as happens in most of the countries in Southern Europe, the economic outlook is very much dependent on the local political outlook as well. The good thing for Greece is that, after a number of years, it appears to have some strong political stability. There is significant support for the government these days, especially once it had proved that it can deal with a major crisis. Don't forget that, over recent months, apart from the COVID-19 crisis there was another one, related to the refugee crisis on the Greek-Turkish borders. The government dealt with both very efficiently.
This obviously gives rise to different expectations for the economy as well. So, within the first months of being in power, we've seen some reforms from the current government. Some have taken place during the current COVID-19 crisis, specifically around digitalizing services and certain government processes. I know that e-government is at the top of the government's agenda. And this gives a significant boost to investment through the public sector, because it has cut out a lot of bureaucracy, which was one of the obstacles not only for local entrepreneurs but also for incoming foreign direct investment in recent years.
As you mentioned, tax rates have decreased and we are expecting a further decrease, although there is probably no need to further reduce the corporate tax rate. What the Greek business community expects—what is really important—is reducing the income tax rate, especially for employees, because the cost for companies to employ people, especially those with essential skills, is too high, as their social security contributions are very large. On the other side, the personal income tax rate is very high as well. Therefore, although there is a substantial cost for every company, the net pay to an employee is almost one third of this cost. That makes it difficulty for us to retain talent in Greece. People are looking for higher net salaries and it is much easier for them to move elsewhere to get that.
On the positive side though, I would say the environment is much more friendly for businesses in Greece these days. Before coronavirus, we were seeing significant interest from foreign investors. We are seeing Greek entrepreneurs investing again, because they have much more confidence in the business environment here, something that will give rise, probably post-2020, to significant growth in the economy.
According to the Global Risk Survey conducted by EY before the COVID-19 outbreak, only 21 percent of board members believed that organizations were prepared to respond to adverse risks from a planning, communications, recovery and resilience standpoint. Post-pandemic, what do you think will be the major permanent changes in how corporations structure their approach to dealing with globally destabilizing events such as the one that we are now facing?
Resilience, not only at a corporate level but at the country level as well, is a key thing today—not only because of COVID-19; this was a key theme with regard to digital transformation and globalization, for example and we discussed it a lot in different fora. In my opinion, we need to rethink everything. We definitely need to rethink the supply chain as a country and not just as individual corporations. We need to rethink bringing forth more digital transformation in business. We need to start thinking about different working models, such as working remotely; although this is something that will come anyway and COVID-19 has just accelerated the pace of it happening. Certainly, the discussion in upcoming years will be more about a greener economy. We are already seeing the benefits of less travel across the world. Overall, I truly believe that we need to rethink everything. Because similar crises will happen in the near future—we cannot avoid them and we need to be proactive.
Recently, EY in Greece has joined forces with the European Bank for Reconstruction and Development and the Athens Chamber of Commerce and Industry around the topic of facing the COVID-19 challenge. You have been quoted as saying that identifying opportunity through challenge is key to growing in an ever-changing environment. What can you tell us about EY's insight on structured crisis management, enterprise resilience and planning for recovery during and after lockdown?
EY is supporting companies to become more resilient and to overcome the crisis. Individual companies need to start thinking not only about the "now", because the now is about people management, safety and different operating models. We need to start thinking about the "next" and the "beyond". This crisis has brought a different way of working upon us. As I said before: different supply chain, different organizational structures, different revenues streams, better management and all of these discussions lead to digital transformation. And obviously, the "beyond". The beyond talks about the circular economy and the value that businesses can bring to society. We will be living in a different paradigm.
EY has also chosen Greece as a base to create a unique Center for Excellence in Artificial Intelligence, in collaboration with the Laboratory of Knowledge and Software Technology at the Institute of Informatics and Telecommunications of NCSR Demokritos. You have previously been quoted expressing the need for Greece as a whole to make a concerted effort to invest in setting up the institutions and mechanisms for disruptive technologies to flourish. What can be said about the work done by EY Greece and the wider community in terms of aiding the propagation of disruptive technology?
Let's start from the basics: we have a lot of talent in Greece. As it has a lot of very well educated young people, I believe the way forward for Greece is to move to new technologies and artificial intelligence is one of them. So when we decided as a global organization to invest in a team of experts on artificial intelligence, the plan was to demonstrate that there is a lot of talent in this part of the world, not just in Greece but throughout Southern Europe. Greece is not so developed in terms of industrialization and, therefore, I think the area in which we certainly need to invest more and leverage the available talent is in emerging and disruptive technologies. We can do much more in order to scale up.
The educational system needs to be reformed or transformed in some way. We will need to have extra students graduating in subjects linked to new technology areas and the number of students who are applying to university for these types of courses is not high at the moment. Unfortunately, most Greeks with expertise in emerging technologies were educated abroad. The challenge is how to bring them back to Greece. For example, if you study abroad and stay there for four, five or six years—sometimes with postgraduate studies—then it is likely you will easily find a job in that country and it is difficult to attract these people back to Greece. As I see it, the best route is to increase the number of graduates in this area from Greek universities and schools, in order to attain the critical mass needed to further develop areas of the Greek economy that are linked to technology.
Additionally, you have been quoted as stating that Greece must now focus on internationally traded goods and services, with the main goal of penetrating world markets. Some of the ways to do this include growing businesses through mergers and acquisitions (M&As) and partnerships in order to achieve economies of scale and gain the critical mass that will allow them to be competitive in global markets. We saw a boost in M&A activity in Greece in 2019, with 85 transactions worth €4.3 billion, a 16 percent increase from previous year. What should we expect going forward?
I'm a very big believer in small entrepreneurship. But in all reality, after a certain point, size matters and it matters because large companies can recruit talent and can invest in areas where, as a small company, you cannot invest. Therefore, I'm very much in favor of joint ventures, mergers—even clustering companies. I've said many times that we can cluster companies to be able to sell products or services outside of Greece, because increasing our exports is a "must" and a matter of survival, especially after the economic crisis of the last 10 years. I'm very positive about the future because we are seeing more small companies realizing that in order to be able to compete in a wider economy, they need this, and there are now a lot of discussions around different players in the market. We are seeing consolidation in some of the sectors in the economy and we will be seeing significantly more over the next years.
Greece's large tourism sector is likely to be affected in the third quarter of 2020, with
some restrictions on travel expected to remain in place and the possibility of foreign demand for overseas travel being subdued. Given also that over 70 percent of tourism receipts are concentrated in the main summer months, how quickly can Greece bounce back?
Certainly, we anticipate much more tourism in August and September. For July, I am skeptical about whether tourism can really flourish because, based on my understanding and what I am hearing from clients, not all the resorts or hotels will be opening this summer. A lot of them cannot afford to operate at a lower scale, so it is better for them to remain completely closed throughout the summer. If nothing goes wrong in Greece or in countries outside of Greece, and if this first small wave of tourists come in July and we don't have any problems, then I think that August and September will be very good—although obviously not at the numbers that we had in previous years.
Greece has been applauded by the international community for its rapid and comprehensive response to coronavirus and the government's willingness to fully accept the recommendations of its scientific advisers. What key elements contributed to the flattening of the curve in Greece in you view?
There are several things. First of all, the government reacted very quickly because it based its decisions on what specialists and doctors were telling it. It was open to all different opinions from a range of specialists from Greece and abroad, and swiftly decided to go for a lockdown. The second thing, I believe, is that people welcomed the government's management of the situation. Even in polls, we are seeing an extremely wide consensus on the governmental measures. People were willing to comply with the measures imposed on society at large, for the greater good.
Greece came into this crisis with the wind firmly in its sails from its positive pre-COVID-19 performance and has subsequently applied effective crisis management strategies in the aftermath. With that in mind, do you see a silver lining to the coronavirus crisis for Greece?

There is something that I consider to be very positive and that is the digitalization of the Greek state. By looking at the first results of digitalization, its advantages and how much time you can save by having certain processes digitalized, you realize this is a huge benefit. It will be much easier to embrace digitalization and new technologies now than it was in the past, because if people see the benefits, then they start thinking very differently. Another benefit is that a number of widely conceived myths have been dispelled. One myth was that Greeks are not patient; it has been said before that, if the government says one thing, Greeks will do the opposite. The second myth, which is a more generic and business-oriented one, is that we cannot work remotely and that we need to be together, next to each other, to be able to deliver a piece of work—that myth is now gone as well.
A key message is: Greece is changing. We have reframed our future. We want to be seen as a good example. There is significant commitment from the majority of Greek people in the political system for Greece to become a positive example in Europe and to stop being its "black swan".