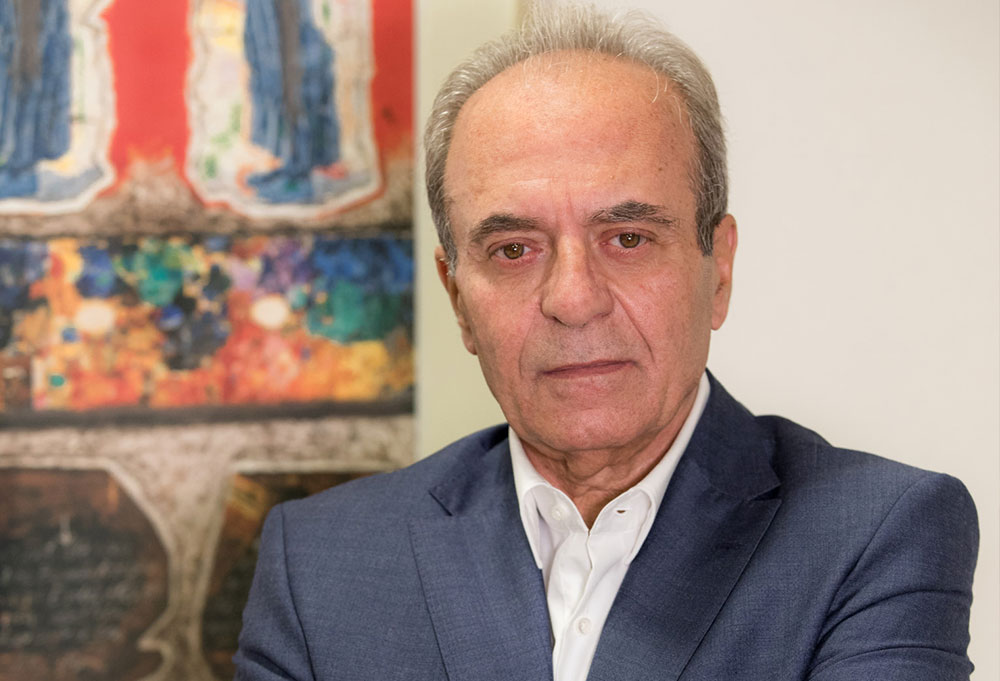 15 Jun

The engineering company behind some of the world's most complex and pioneering infrastructure projects
Ioannis Foteinos, Founder and CEO, Salfo and Associates, says now is the time to invest in public infrastructure and the green economy
Under your leadership and strategic vision, Salfo and Associates has earned itself a powerful reputation among international engineering firms, being the first Greek company to enter Engineering News-Record magazine's global top 200 international design firms. Could you provide our readers with a snapshot of the company's history and its evolution to become an international leader behind numerous complex and pioneering infrastructure projects? What critical conditions came together at the time you decided that extroversion was a key move and the future for the company?
We established the company in 1994 and at the time we were only working in Greece. By 2004, the year the Olympic Games was held in Athens, we had accumulated a lot of know-how and thought it was the right time to expand our business, with the best place to do that being the Middle East. My team and I started targeting those countries. We invested a lot of money and it was clear to us that we could adapt our activities for that market. At the beginning it was tough, as we had not gained much recognition and had to prove that Greek engineers are well educated and can perform in line with the best in the world.
Once we had some projects under our belt, we could invest more money in our expansion. This allowed us to demonstrate that we were very successful and that was a crucial element for the Middle East. We were also competitive in pricing compared to other countries. After 2010, we had to face another problem due to the precarious economic situation Greece found itself in. We had to prove to the Middle East that our company was reliable and financially stable once again, which we successfully achieved.
Greece as a nation has received global praise for its handling of the coronavirus crisis. What, in your opinion, were the key elements that enabled Greece to tackle the spread of COVID-19 so effectively?
The most important key element was the reaction of the Greek people. In many parts of the world, people consider Greeks to be disobedient toward government, to not follow rules and to only think about entertainment and enjoying the sun and the islands—but this is certainly not true. According to European Union statistics, Greeks are some of the most hard-working people in Europe. During this crisis, the Greek government reacted very quickly, and the Greek population followed all the rules enacted. We have proved we can follow rules very easily and better, for example, than the British, Americans or even Germans can.
The magnitude of the economic shock resulting from COVID-19 is still yet to be quantified. Even though there are some sectors that may have been protected or even gained during the crisis, most have suffered. In what ways has coronavirus affected the global construction and engineering sector, particularly in Greece and the other markets in which you operate?
More than 90 percent of Salfo's turnover comes from outside of Greece and our main activities are currently around the Middle East. At the moment, we are working with countries like Saudi Arabia, Qatar, Dubai, Oman, Malta, Cyprus and Serbia. As a result of the pandemic, there will be a slowdown in the construction business. Most countries have recently finished a lot of projects and were at the stage of discussing upcoming ones, but uncertainty arose when the virus emerged. Today, most offices remain closed in the Middle East as restrictions are still in place.
In my opinion, the most effective investment at this moment is to spend on public infrastructure projects such as roads, ports, hospitals and schools. Governments need to inject money into the market in order to ensure these projects are being developed. I hope the whole international community rethinks what kinds of developments are a must-have. It is probably also a good time to examine renewable sources of energy and to invest more money in environmentally respectful initiatives that will shape the whole planet. Climate change must be a priority and it will probably create new opportunities in the green economy.
The tourism and travel sector—one of the most battered by COVID-19—is also one where you are positioned as a key player in the market. Your firm has carried out a diverse range of projects in the tourism industry, particularly in the Middle East, with impressive results. What is your assessment of how coronavirus will affect investments in tourism infrastructure?
Huge projects in the tourism sector in many countries will be influenced by COVID-19 and some of these projects have been postponed until 2021. Overall, countries that are heavily dependent on tourism have been impacted and will continue to be prejudiced by the emergence of the pandemic. Certainly, the recovery of any country will start with the execution of these projects.
Let's talk a bit about sustainability and climate change, which may have taken back seat in the last three months but which continue to be at the forefront of the global agenda. How would you say Salfo and Associates is embracing sustainability in the company's project portfolio?
Three or four years ago, the discussion at Salfo turned to the fact that we should not only focus on our expansion into new countries. We should also consider our diversification into new sectors as an important factor for future success. Every year, we try to advance our activities in new countries and we are currently deliberating expansion into Kazakhstan and the African continent.
Nevertheless, we are also trying to expand into new sectors, including the energy sector, the environment and IT. We are already involved in energy-saving, telecommunication and IT projects here in Greece and in the Middle East. For example, we acted as the independent engineers for a countrywide project of fiber optic installations. Clearly, we are not only an engineering company with infrastructure projects but also a dynamic company also focused on other sectors. Our basic know-how allows us to expand our horizons as a company that is well grounded and diverse with regard to the sectors we operate in. The future is in front of us and we are prepared to face it.
As far as the world and climate change is concerned, it is late but not too late. The entire world needs to think in a different way going forward. We all live on the same earth, must respect the environment and take the necessary actions to live in a better world. All countries are connected somehow with each other. Today, it is not only money that we should care about, but also human happiness and our common Earth.