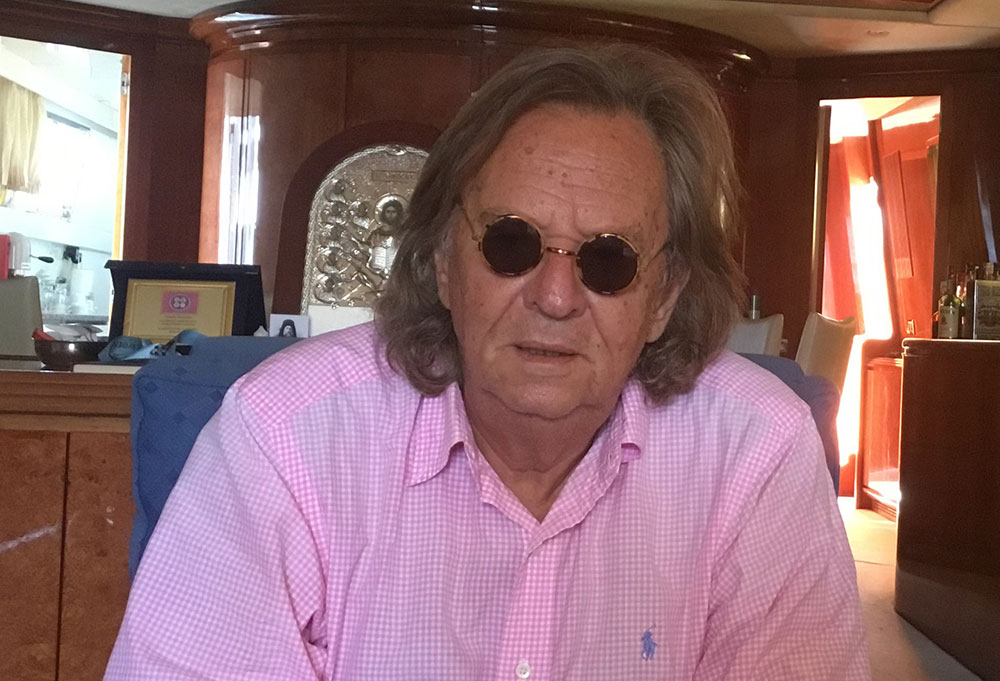 24 Jul

The ultimate destination for yachting offers unique experiences for everyone
Antonis Stelliatos, President, Hellenic Professional Yacht Owners Association, demonstrates why Greece is the global leader for yachting
Before we start to talk about nautical tourism and yachting in Greece, I'd like to begin by asking how you would you sum up the essence of Greece and what is it about Greek hospitality, philoxenia, that makes it so unique?
If we were to dissect the word "philoxenia", we would have the words "philo", meaning friend, and "xenoi", meaning visitor or foreigner. As we all know, Greeks are renowned for their hospitality. We know how to help tourists in every way possible, as well as how to lead them into having some truly memorable vacations in our country.
Greece is a paradise for travelers who love the sea, with its wide diversity of over 3,500 islands and thousands of kilometers of pristine coastline. However, yachting is a competitive industry, especially in the Mediterranean region. What are some of the key advantages that make the Greek yachting experience stand out when compared to some competing destinations?
Greece a country blessed with nearly year-round sunshine, countless islands and 16,000 kilometers of coastline—it is the ultimate destination for yachting. Greece has the clearest and most transparent waters in the Mediterranean, in addition to the warm hospitality of the locals. Whether it's the classic whitewashed splendor of the Cyclades in the Aegean, the lush flair of the Ionian islands, the cosmopolitan splendor of the Dodecanes islands or the green, pine-laden islands of the Sporades, Greece has something for everyone. It can be best described as a boutique country: small in nature and yet offering so much.
Whether you would prefer to spend your days lounging on a beach or experiencing the countless museums and archeological sites this beautiful country has to offer—what better way to experience it all than with a yacht. Greece offers the chance to enjoy its coastal beauty with countless yacht options for everyone, not just the very rich. Since the yachting season in Greece runs from April to early November, the Greek seas offer attractions and delights for all tastes.
Tourism is Greece's champion sector and was the only area that saw consistent growth during the financial crisis, driving some to call it the life jacket of the economy. How does yachting contribute to the Greek tourism sector?
Before the financial crisis broke out in 2008, yachting used to provide 3 percent of the 18 percent that tourism contributed to gross domestic product. Today, according to researchers, yachting contributes 1.1 percent of the tourism sector's contribution. In comparison, cruise ships represent 0.0082 percent.
Not long after taking office, Prime Minister Kyriakos Mitsotakis announced a 3-pronged plan to boost Greece's maritime sector, with nautical tourism being one of the three prongs. From your perspective as president of the Hellenic Professional Yacht Owners Association (EPEST), how would you characterize the evolution of marine tourism in Greece and what are some of the critical issues that you are currently focused on tackling?
It is true that the Prime Minister and the Minister of Shipping have mentioned that they are focused on the development of yachting. Through the Ministry of Tourism, we are going to advertise Greece as a unique destination for yachting and nautical tourism. Beside that, our shipyards are being upgraded to allow for the construction of new yachts in Greece. Through us, the government is also giving a lot of attention to tourism education, which is extremely important for the high-level VIP passengers cruising around the Greek waters.
We are now negotiating to lower the VAT incurred by yachting, which is really important for this sector of tourism to grow, in comparison to others. We should not forget that we are neighbors with Turkey and Albania, whose VAT for chartering a yacht is zero. Countries like Spain, Italy and France do not have countries like this competing with them. They also do not have such disputes about territorial waters, space or exclusive economic zones.
EPEST is also committed to raising the standards of service in nautical tourism and is very proactive when it comes to combatting illegal charters, where you work together with the Hellenic Coast Guard. How would you gauge the success of your efforts in this respect and what types of initiatives are you spearheading to promote the highest level of standards?
We have coordinated with the government and other stakeholders to keep illegal chartering within our scope. We want to keep the country open to everybody but in tandem with Greek-flag vessels. The Greek charter fleet consists of over 5,500 yachts, which includes motor yachts, sailing yachts, catamarans, traditional yachts and mini cruise ships with a capacity of 49 passengers. We want equal treatment between Greek and foreign flags. We have one of the best destinations in the world for yachting but we cannot compete with those that have more rights than us.
At the moment, yacht owners have 5,000 seamen working for us in various positions for who we pay insurance, which is a huge expense. If the government were to allow us not to have only Greek crew, which is mandatory for the time being, then there would be no problem. Equal treatment for foreign and Greek flags is crucial, in our opinion—we are not going to accept unfair competition. We are in discussion with the government about trying to completely open our seas to legal yachts coming in for chartering in Greece.
What opportunities are on offer in Greece for investors interested in nautical tourism?
Hopefully, the government will focus further on nautical tourism, including marinas, which we need. I think that with the number of yachts visiting Greece during the summer, a marina investment would be excellent opportunity and some foreign investors have already invested in various facilities. The government is also going to seriously focus on the shipyards of Piraeus, so that we have a chance to build yachts here, rather than in Italy or France, which will provide job opportunities to thousands of people.
As an ambassador for the Greek maritime industry, do you have a final message for the readers of Newsweek?
Shipping and tourism are the two pillars of the Greek economy, and we would welcome more investors and partners for our two core sectors. We would also like to assure every visitor that our seas are secure for them to sail. We will continue to roam those seas, maintaining our position as undisputable leaders of the yachting industry worldwide.