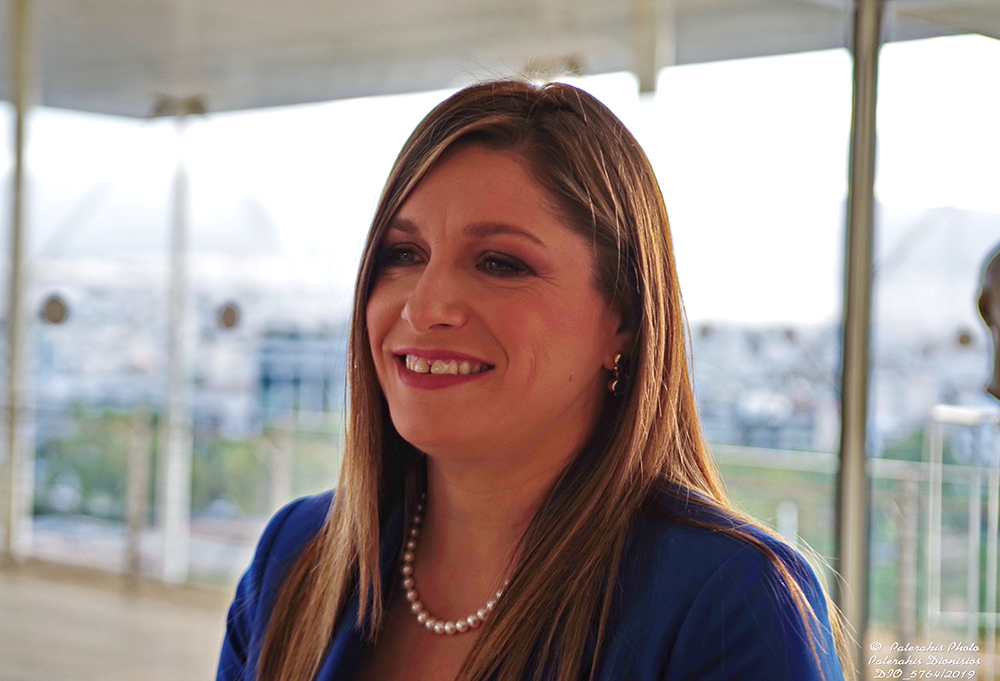 08 Jun

Greece takes the lead in changing the shipping industry for a new era
Danae Bezantakou, CEO, Navigator Shipping Consultants, examines how the industry adapted quickly in response to COVID-19
You are an active head of Greek business through Navigator Shipping Consultants, a leading representation firm with an extensive, robust network of towing companies and ship agencies around the world. You are also a committed mentor, with experience across various sectors both in Greece and abroad. So, you must possess a keen perspective on the impact of coronavirus on the Greek business environment. Would you say the shipping sector—because of its extroversion—was somehow not as exposed to the COVID-19 crisis as other industries?
Greece has been through a very tough 10-year period, which will be extended due to the pandemic. However, I believe that crisis can also bring opportunities. We had to change and we did—it is obvious from the effective plan that Greece put in place against COVID -19. 97 percent of Greek entrepreneurs represent small- and medium-sized companies  (SMEs) and we had to build another ecosystem for business with that fact in mind.
Prior to the crisis, perhaps our academic and political sectors were unable to cooperate in an efficient way with SMEs—that has changed a lot. We also see that we have better relationships with the EU, as we were feeling that we were not really part of Europe before. The whole "Grexit" scenarios, which I never believed, showed the vast lack of communication within the union at that time. During that financial crisis, we lost human contact. Now, we communicate a lot and are organizing many events, which have been adapted to the new virtual reality. We have better cooperation with the government and this gives confidence that we can overcome this current global crisis, which is different to the last and concerns us all. We have also realized that we can make things happen through cooperation. Before the crisis, we all expected the government to run things. Now that perception has changed—we are all on the same side.
The shipping industry has always been exposed to any kind of crisis in the world. When a sector holds more than 90 percent of worldwide trade, it cannot be outside of it during a worldwide crisis. We have had ups and downs in shipping during the pandemic. During the quarantine period, shipping was one of the few sectors that did not stop operating. It is one of the basic parts of the supply chain that prevented us from facing empty shelves at supermarkets and insufficient medical equipment. Greece has the largest controlled shipping fleet, owning and managing 53 percent of the European deadweight tonnage and 17 percent of the world's fleet. Shipping is one of the key sectors of the Greek economy, contributing €13 billion a year and accounting for approximately 7 percent of the country's GDP by employing over 192,000 people on shore and at sea.
In the Greek shipping industry, we succeeded in adapting quickly to remote working—that was always in our lives one way or another—and in using technology to carry out the digital transformation that had been discussed for the last few years but happened much faster that we ever thought because of the crisis. What we need to take into consideration is the upscaling and training that we have to do in our offices and for the next generation of shipping in order to maintain our global position. We have to create a new ecosystem by educating the next generation. We are going to see a huge change in generations, with shipping becoming more corporate. Europe is not ready for this change, including us, but the value of the knowledge of shipping as seen though the eyes of the European leader with a worldwide reputation—Greece—is immense.
This year marks the start of a new era for the global shipping sector. In your opinion, how will the International Maritime Organization's (IMO's) 2020 sulfur cap impact the shipping services industry in which you operate?
I believe that this is an over-discussed issue, as we have already reached 2020. Now it should be the time to discuss the IMO's 2030 or 2050 regulations. These are the challenges. When it comes to regulations, it is simply part of the sector—there are always new regulations coming into shipping every 10 or so years, because shipping is the basis of trading. There are some regulations that I disagree with because shipping is the least environmentally destructive sector. We have been stigmatized a lot, even though we have been quite innovative, supporting alternative methods and types of vessels. Without a doubt, shipping has to be part of the entire effort toward the protection of the environment, but not alone.
On another note, we know that the charterers control most of the vessels but they are not involved with the changes in regulations. This is also very important, as you need all the actors that handle a vessel to assume responsibility over this grave subject. The new generation of shipping will offer additional challenges—which is also great, as there are many prospects. The excellent thing is that there is good communication with key industry providers. When there is dialogue, you can always find a solution somewhere in the middle.
Navigator Shipping Consultants has been a mainstay of the Greek shipping sector for nearly three decades, developing a robust network of towing companies and ship agencies around the world. What are some of its strengths?
Navigator represents multiple big companies all over the world. We have created a pool of companies so that we can offer very good solutions through tailor-made programs. Technology is great but there are some services that require tailor-made treatment. If we see that some ports have more trade that the others, we can fluctuate the prices so that trading continues being profitable. In shipping work changes every day and the challenge of this sector is that there are not many daily patterns. The cultural challenge is another issue that has been efficiently dealt with by the Greeks. We are good at communicating with other cultures. The U.S. and EU have been quite open for many years, although Africa and Asia are still not so open in terms of competition.
After November's successful 19th edition of the Shipping Decision Makers Forum—an event organized by Navigator and attended by leading industry stakeholders from around 50 countries—I'm certain you have already begun to work on this year's landmark 20th edition of the forum. There were some very interesting topics discussed at the 19th Edition, including smart shipping, green financing and the new IMO regulations. Can you give us a sneak-peek into the main themes underpinning the upcoming 20th edition?
2020 is a challenging year from many perspectives. Before COVID-19, we announced that our forum would be held in September 2020 on Chios island. The first Navigator Decision Makers Weekend took place in Chios in 2018 with great success and the island has given birth to many Greek shipowners. We also found that, meeting other countries' representatives on a smaller island, attendees could be more open. As Navigator's first priority is safety, we will postpone the Navigator forum until 2021 and celebrate its 20th edition at the same time as the 30th anniversary of the company's founding.
However, as Navigator is enhancing open dialogue among shipping executives and decision makers, we are organizing weekly online meetings with the forum's advisory board, which was formed last year and consists of renowned professionals from the whole spectrum of the maritime industry. This is in order to keep updated on all issues related to shipping and also society in this unprecedented situation we all face. Just a few of the organizations and companies that have participated in our online meetings are World Economic Forum, World Bank, Google, Bain & Company and Cushman Wakefield.
What is your view on the Maritime Hellas Cluster, in which organizations from a range of industries collaborate, and its potential to become a global hub for shipping services?
We see great prospects for them and believe in their work. Logistics and supply chains are among the rising sectors in Greece. We have this power to exchange views with many people in this Greek sector and we are establishing synergies. The port of Piraeus has already shown remarkable results by becoming among the top four ports in Europe and top in the Mediterranean for 2019 in terms of container traffic. For me, the biggest opportunity for Greece will be Alexandroupoli. There, cargos will go directly to their delivery destinations.
Shipyards are another aspect of the market that could be seen as an interesting prospect, following the paradigm of ONEX in Syros, as there are many other ports to be found in strategic locations. I think that the combination of the knowledge of the shipowners with that of the service providers is crucial. The majority of the big international companies offering services to vessels have branches in Greece. So, cluster contains enterprises from all over the world. This is the great challenge that we have to address. I am very positive and the Minister of Shipping Ministry of Shipping and Island Policy is also quite supportive.
It is also very important to see Mr. Veniamis and the Union of Greek Shipowners working together with the prime minister and the other ministers for a better future. SYNENOSIS, the Greek Shipowners' Social Welfare Company, is also an important example of how shipping can support society. With the challenge of immigration, we need this type of cooperation. Greece has always been in a position that enables it to handle other cultures and I believe that we have been very good at it, even though it has been tough. The great thing with shipping and tourism is that it provides great prospects to enable our capability to move forward and surpass many challenges.
Your business interests also span the tourism industry through KEFI, a leading travel agency, and the Matilda Hotel on Zakynthos island. What sort of synergies emerge from being involved in multiple businesses, particularly ones related to Greece's two champion sectors, shipping and tourism?
 Tourism is a vital part of Greece's backbone and was one of the first industries to be affected by COVID–19. Tour operators, hotels, restaurants and many other businesses stopped their operations. The positive fact is that Greece is a safe destination, as we took all the measures needed since the emergence of the pandemic. Our country is third worldwide for owning yachts of over 30 meters in length and yachting is a type of tourism that will be preferred this year, due to the isolation and social distancing it provides tourists. Greece has to reconstruct its strategy in the tourism industry by offering a greater range of experiences. The government, in collaboration with scientists, organizations and industry professionals, are working hard on this. Greece has 260 sunny days a year—just imagine how good that will be for people after quarantine. Tourism cannot be replaced by artificial intelligence!
As a mentor and youth leader, you have been nominated for some very important roles throughout the years, in addition to the work you have done on activities such as iforU, which empowers female entrepreneurs, and the Yes Forum, a dialogue platform for the next generation in shipping. At what point in your life did you realize that this was a path you wanted to follow? Who has been your role model and what inspires you to be so committed to women and youth empowerment?
 My role model has always been my mother—a mother of four daughters, married to a captain and standing next to him throughout all those years. She did not just raise me, she also provided me with substantial mentoring and remarkable ideas that led to business opportunities, like the iforU. In business, it is really important being able to control your emotions or to add them to your daily life. My job is my life and I enjoy working here. When I do not enjoy cooperating with somebody, I prefer to lose money than do it without this drive. I keep my emotional stability intact, without having to follow something that I do not like.
I am honored to be part of many fora as a speaker, a moderator and a Young Global Leader at the World Economic Forum. I am happy that I get strength for various women and I am able to return it back to them. It is not a focused approach on feminism or any other ideology. With the Yes Forum, I believe that the current worldwide crisis will be solved through the efforts of women and young people in general. When there is a crisis, you need to see which sectors or groups have been out of the frame till that point.
People should not forget where they started from and who helped them during their first steps. I had my family, some other people have me, but we should all be grateful for the ones who assisted us in getting where we want to be. That is one of the main values that I need to transmit to the next generation—to be thoughtful and recognize the chances that the shipping industry in Greece can offer them. I want to convince them that they should never give up. That is the reason why, during the quarantine, we organized many webinars and social media campaigns, as well as the Global Young Shipping Forum: What Now?, where representatives from 13 youth shipping organizations discussed the challenges and opportunities for the young generation in shipping.
As an ambassador for the Greek shipping industry, do you have a message for the readers of Newsweek?
The Nobel-Prize-winning poet Odysseas Elytis said: "If you take Greece apart, you will be left with an olive tree, a vineyard and a boat. Which means that, with these items, you can rebuild it." That means that—right now—we all have the raw materials we need to restart, we should not get disappointed or demotivated. We need to adapt because we are at the beginning of a new era. Things may be harder but nothing is impossible… that word itself says "I'm possible."