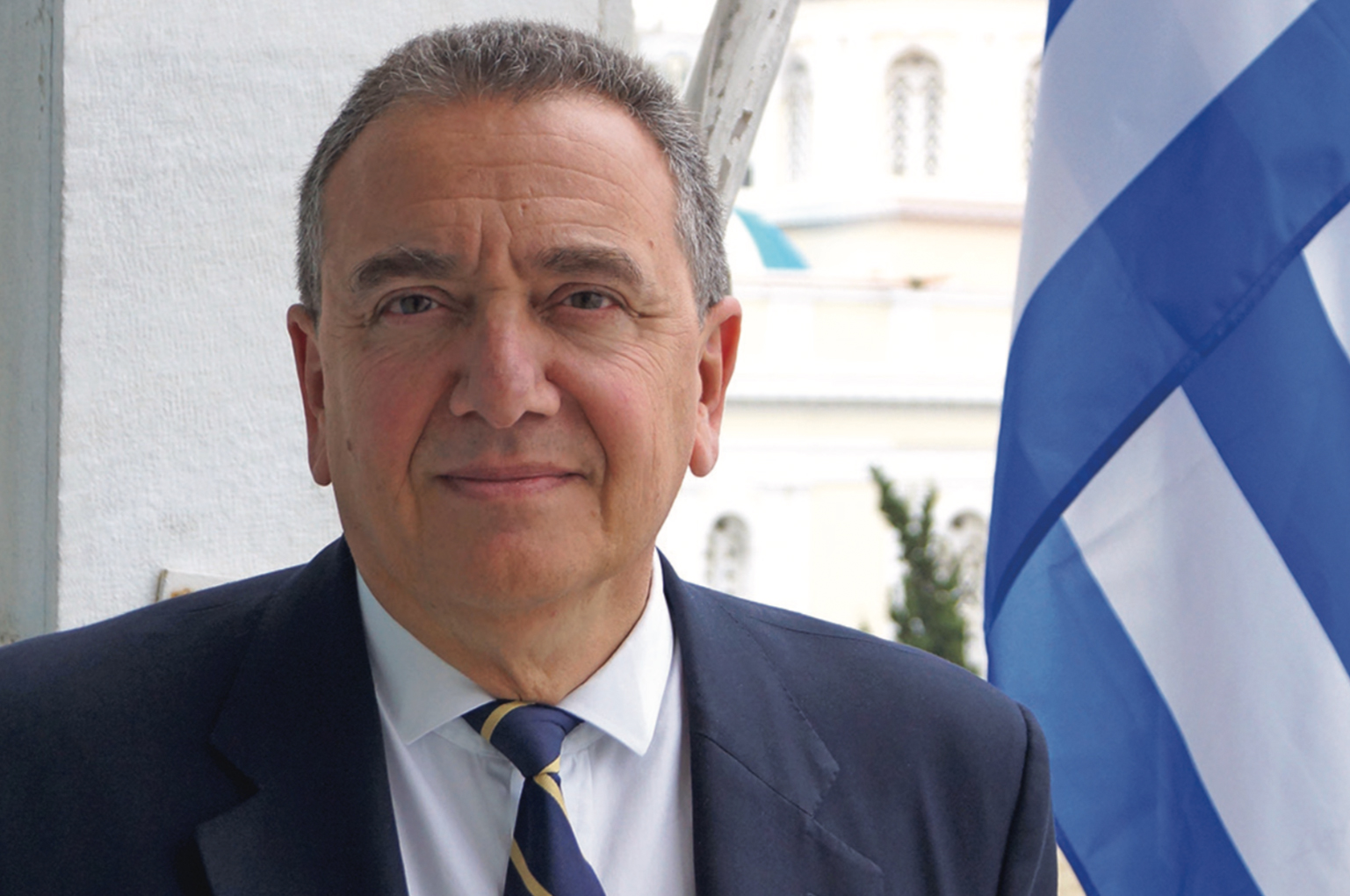 21 Jan

Bringing a modernized shipping industry to the attention of the young
Dr. George Pateras, President, Hellenic Chamber of Shipping, discusses industry priorities from modernizing ferry fleets
Tell us a bit about your vision behind Maritime Hellas, an organization you have helped create in order to promote the maritime cluster in Greece and unite the entire shipping industry.
The maritime cluster has existed since shipping started in Greece. It was island-centric at first but since shipping has become a national staple, the cluster has grown. We decided that it was the time to make our cluster official—it already had 120,000 non-official members including ship owners, manufacturers and seafarers. We now provide services to some 500 members who joined the official website. We give seminars and organize exhibitions, representing Greek shipping on a worldwide scale. My vision is that eventually everybody in the industry will become a member of the cluster. It is unlike any other union that exists: non-profit and working purely for the commercial benefit of its members. Logistics remain an interesting challenge for any cluster. We need to be able to get spare parts for repairs and manufacturers need to get their parts to different shipyards. Logistics have become blocked as the concept of door-to-door needs to be modernized.
How are you attracting younger generations to the maritime industry, which may have lost some of its gloss over the years?
The Hellenic Chamber of Shipping (HCS) works with the Union of Greek Shipowners (UGS) to promote the maritime industry as a good career choice with a solid income. People need to be reminded that, today, shipboard con- tracts are much shorter, between five and seven months, and come with many creature comforts such as internet. The UGS is making substantial contribu- tions to the upgrade of our maritime academies. There are two state universities in Greece, namely Piraeus and Aegean, together with many private institutions, offering Master's degrees in shipping and we promote this in any way we can. Greece has three main shipyards: Skaramaga, Eleusis and Syros. We are trying to reopen the engineers' college in Syros, to use workshops as training. However, we need teachers. The older technicians are retiring and young men lack the skillset. Rather than losing this skillset, we want those people to teach the young.
"Within the population, we have phenomenal know-how in terms of running a ship. It is in our DNA… Rather than losing this skillset, we want retiring technicians to teach the young."

Dr. George Pateras, President, Hellenic Chamber of Shipping
What are your views on government plans to establish a taxation and legislation framework that is more friendly to shipping firms? Might this help attract new investments and facilitate the establishment of foreign shipping companies in Greece?
The Greek international fleet, regardless of flag, has recently been subject to a tax reform after agreement with the previous government thanks to efforts by the UGS. The Greek national fleet, however, plying our inland waters, still has VAT-related issues that are putting an unfair burden on our ferry-boat, cruise and yachting industries. We have to find a fair solution; you cannot expect a vessel that is going into Greece and then out of it to waters beyond the EU to not be subjected to VAT while those staying in Greek waters remain subject to it. This is unfair competition and we need to find a solution that is in line with EU legislation. In-shore categories bring a lot of money into Greece. The country's cohesion is dependent upon this infrastructure. Most Greeks are not connected by roads but through ferry boats. In conjunction with the Ministry of Maritime Affairs, we have a major project to see how we can obtain government and EU grants or loans, so that we can renew our fleet—we need about €7.5 billion to renew the entire fleet.
Is Greece ready to draw in new international ship registries?
Ever since I took office, HCS's core project has been education, through the maritime academies and professional colleges. We need to promote more crews to have a stronger sector. The moment our crew levels dropped, our flag started to drop. Once we achieve that we will be fully ready, as we do have a great legislative framework and a remarkable management system, not to mention the fact we are at the center of Europe. Within the population, we also have phenomenal know-how in terms of running a ship. It is in our DNA. We would all love to have Greek flags, but unless you are able to go large and employ 30 captains, it is really very difficult to get a hold on the situation. Greek personnel are, in fact, not that much more expensive than the other nationalities that are currently flooding the sector. I think that we are heading in the right direction.