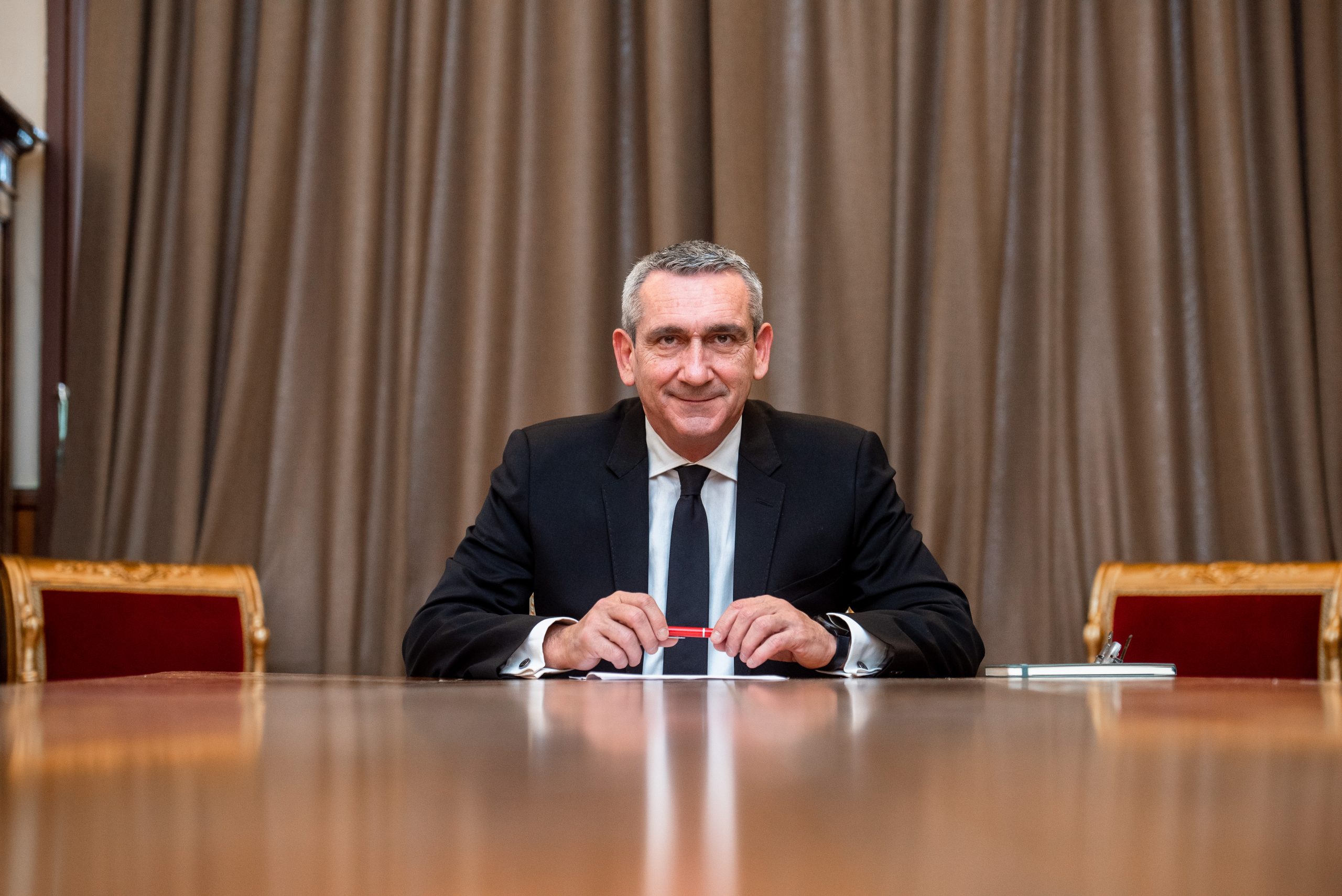 08 Jun

The Greek summer we all deserve more than ever this year is here, in the South Aegean
George Hatzimarkos, Governor, South Aegean Islands Region, introduces one of the most beautiful, welcoming and safe destinations in the world
Governor, what was looking like a fantastic start to the new decade for Greece, quickly became an extremely volatile and high-risk situation with the world on high alert. Some nations stood tall while others fell. Greece as a nation rose to the occasion and has received global praise for its handling of the coronavirus crisis, especially considering the situation for some of its neighbors in southern Europe. What, in your opinion, were the key elements that allowed Greece to tackle this crisis so effectively?
As you correctly noticed, we were coming out of a very tough period, due to the serious fiscal problems that we had. The whole country felt very tired financially and psychologically when, at long last, things had started going well for Greece. It was just when Greece had started getting its economy back on track that the coronavirus crisis arose. I believe that, in periods like this, what matters the most is the leadership and the determination of the people.
The Prime Minister was very strong-willed in his decision making. He also made the right choices in terms of the advising team that surrounded him. Therefore, he had a very prompt response during this situation and he implemented measures early. What was also wonderful was the fact that the measures enjoyed the full cooperation of the citizens. The government and the municipalities in different regions all implemented very strict measures. The results lived up to what the policy planned to achieve. The South Aegean Islands region, in particular, emerged from this crisis as the White Region in the global COVID-19 map, with the least numbers of COVID-19 cases—we have recorded only 10 positive incidents and zero deaths—at the national and European level, thus proving it to be one of the most secure places on earth.
To what do you attribute your success in curbing the pandemic so quickly and what were some of the challenges you faced to protect your residents that led to the amazing results you have achieved? What tactics or strategy did you applied within the South Aegean Islands region, which includes 50 inhabited islands each with its own particularities and over 300,000 people.?
Since the first day of this crisis, we have made political decisions imposed by our number one priority: the protection of the human life. We didn't hesitate to ban arrivals and visits in our islands—although it went against our mentality and culture, it was essential to keep our citizens safe.
Right from the start, we put all our power and resources in the health system to reinforce it. In Greece, the regions are not allowed to spend their budget on health issues, as this is a central state responsibility. What happened was that for the first time we received the legal authority from the government to allocate budget for the enforcement of our health systems, which had tremendous success. In the South Aegean, we have seven hospitals, which, during the first phase of the crisis, we supplied with critical equipment.
Early enough, we ordered seven PCR stations that have the ability to conduct molecular tests for COVID-19 and get the results within an hour, whereas before that, we had to send the tests to Athens and wait for a day and a half or two days to have the results. We are now examining another plan to procure 10 more PCR stations to be able to increase the testing capacity. We bought modern respirators for all the islands and all the hospitals and medical centers. We opened a tele-consultation medical program, which was free for all inhabitants of the islands. We supplied our healthcare centers and hospitals with isolation boxes to receive and isolate safely suspect patients. We sponsored our National Centre for Emergency Assistance with two special enclosures to transfer people to and from Athens. As soon as the state issued the health and safety protocols, we initiated a large program for business owners and employees to get trained on the latest protocols. You see, when it comes to tourism, our reflex is rapid and sensitive, as in South Aegean we breathe tourism.
Where is this funding coming from? Is it from the government's €24 billion stimulus package aimed at getting the region's tourism sector back on its feet?
Actually, enhancing our health infrastructure is funded by redirecting the region's budget and resources. As far as tourism is concerned, it has always been the number one priority for the South Aegean, which is reflected accordingly in our action plans, policies implemented and funding.
The government's €24 billion stimulus package primarily aims at supporting the people that lost their income. In the South Aegean region, 97 percent of our local gross domestic product is linked to tourism. So, we're afraid that if tourism doesn't pick back up, thousands of people would be without income. In this context, the state's primary concern is to support the employment and the income of these people.
How do you think that COVID-19 is going to affect you in the mid to long term? Last year was such a great year for Greece.
2019 was a wonderful year. For the first time in our history, we broke the line of 6 million arrivals coming to the islands of South Aegean. In our region, we produce one third of all Greece's tourism income . We have the "Star Islands" like Santorini, Mykonos, Rhodes and Kos, and so many other precious gems like Naxos and Patmos among others. We have five international airports. Tens of thousands of people come from the mainland and work here during the summer. In other words, the South Aegean and tourism are bound together. I literally cannot imagine our life without tourism. We do, however, understand that after this crisis, we will all be living on a new planet. We understand that tremendous amounts of habits will change. We also change and we are training on the new way of living. One thing is for sure: openness is in our DNA. Openness with protection and measures has become part of our system.
How do you foresee this affecting your tourism for this year and next? Do you feel that there will be the confidence for people to be returning for the end of your season this year?
What happens now is that you have to act like you are a freshman, as we are all working in a completely new environment. We don't have a manual for a situation like this. It is the first time in the history of the world that guests will be hosted in the midst of a pandemic. The whole planet is doing it for the first time. Our dream is not to bring back the numbers we once had. Our dream is to be back on the field gaining as much share of the tourism market as possible, while everyone remains healthy and safe. Our goal is to get the biggest share we can get from this market, whatever the market size will be in today's current conditions.
What message would you share with travelers from around the world pondering a visit to Greece and the South Aegean this summer?
Thanks to the prompt and effective policies Greece implemented, we are one of the safest places to travel to as soon as the borders open. The message I would like to share with travelers from around the world is that the Greek summer, which we all deserve more than ever this year to take off the pressure, is here in South Aegean. Whatever they might be looking for, they can find it in on of our 50 islands. Traveling now is like making an escape. I cannot imagine a better escape route than visiting the Aegean Sea.
Well, on top of the beauty of your region, the warmth of its people, the South Aegean undoubtedly has one of the best gastronomies that has drawn thousands, if not millions of visitors to your islands each year. The riches and diversity of your cuisine was recognized last year as the European Region of Gastronomy 2019. Why is your region's gastronomy considered one of the best and healthiest in the world?
I'm very proud of this. Before I got involved in politics I was president of the Chamber of Commerce and Industry around the islands. So I was a young man when, with my colleagues, I designed the Aegean cuisine platform. In 2016, we ran for the title of European Region of Gastronomy. We were very happy that we won in 2019. We also won because we worked very professionally. Tradition was an aspect that helped us win. If you respect history and tradition, you will find the recipes.
Do you think that gastronomy can play a part in contributing to off–season tourism, for example?
We see this happening already. We have done several studies and surveys of visitors that show that no matter who they are or where they come from, no matter their age, no matter if they are well-educated or not, and no matter the income they have, food is number one or number two in their experiences. We started a large campaign around the islands to train the professionals in the food industry to offer Greek food over everything. Everybody is looking for the local experience. We want to feel like people from the country we are visiting.
Before we finish, I wanted to invite you to comment on anything I may have missed in my questions.
I would say to people around the world that the islands are here for you to enjoy. We have a long history of battling through turbulent times. From this difficult time, we emerged victorious. As beautiful as always and safer than ever, the South Aegean is the perfect place to feel the Greek summer, to enjoy your freedom, to connect with the sea and nature, and to be with people you love. Historical sites, great food, secluded areas, natural gems, cosmopolitan resorts, the choice is yours. The professionals in our tourism sector are very well trained and will be more than happy to host our guests again. And I am sure that, this year, our smile will be bigger than ever before.